Sale!
Description
Smar H.265 POE 2MP IP Camera Outdoor Waterproof CCTV 1080P 20fps HD 720P H.264 Network Bullet Camera 2.8mm Wide Lens P2P Onvif
1. This module uses XM510 For 720P, XM530 For 1080P​
2. 1280*720P Resolution 25FPS Real time, 1920*1080P Resolution 20fps Non Real time.
3. H.264 Video Compression for 720P, H.265 Video Compression for 1080P
4. Using XM CMS client, Supports P2P remote, does not need to open router ports without port mapping, Easy remote access.
5. Support for international Onvif2.3 agreement, compatible onvif2.0
6. Support IE, Firefox, Google browser
7. Supports mobile phone remote access easily, AS: iPhone, Android
8. 30PCS IR LED With 15-25m IR Distance
9. Built in IR-CUT Filter; Day & Night Vision
10. High Quality Plastic Case, Used Indoor/ Outdoor, Waterproof IP65
11. Standard lens: HD 3.6mm (2.8mm/6mm/8MM Optional)
12. 12. Standard DC12V IP Camera or 48V POE IP Camera(Optional)
Note:
DC12V 1MP= DC12V 1MP(720P) IP Camera ; DC 12V 2MP=Standard 2MP(1080P) IP Camera
48V POE 1MP = 48V POE 1MP(720P) IP Camera; 48V POE 2MP =48V POE 2MP(1080P) IP Camera
Camera
Image Sensor
1/4 inch H62 CMOS
1/2.7 inch 2235 CMOS
Processor
XM510
XM530
Signal System
PAL/NTSC
Min Illumination
Colour:0.1Lux/F1.2 B/W:0.01Lux/F1.2 IR-ON:0Lux
Infrared LED
30 IR Leds 12mil
IR Distance
15-20 Meters (The difference of scene environment will lead to differences of IR distance)
Day&Night
IR cut filter with auto switch
Lens
Default 3.6mm (2.8mm,6mm,8mm optional)
Compression Standard
Video Standard
H.264+
H.265+/Compatible with H.264
Bit Rate
0.1M~6Mpbs variable
0.1M~8Mpbs variable
Dual Steam
Support
Image
Max Resolution
1280(H)*720(V)
1920(H)*1080(V)
Frame Rate
1280*720(25fps)
1920*1080(25fps)
1280*720(25fps)
Image Settings
Brightness, Saturation, Contrast, Hue adjustable
Image Process
AE, AWB, ABF, ABLC, Digital WDR,2DNR/3DNR
Digital WDR
Support
2DNR/3DNR
Support
Intelligence Analysis
Unsupport
Support for humanoid detection and cross-border alarm
Image Orientation
Flip and Mirror
Network
Network Storage
NAS
Alarm Trigger
Motion Detection, Video Blind, Video Loss, IP address conflict
Alarm Way
Email Alarm or FTP Upload
Protocols
TCP/IP RTP RTSP RTCP HTTP DNS DDNS DHCP FTP NTP PPPOE SMTP UPNP
Transmission
P2P penetrate automatic forwarding
CMS
Support remote client monitoring software MYEYE
Compatibility
ONVIF2.3
Mobile Monitoring
Support Android, iPhone IOS
Interface
Communication Interface
1*RJ45 10M/100M self-adaptive Ethernet interface
Power port
1*DC12V(5.5mm/2.1mm)
General
Reliability
Comprehensive lightning protection,in line with national and international standarda;7*24 hours 65 ℃ high temperature stable and reliable testing (camera board testing)
Title OSD
Channel name,Date
Operating Conditi
-10°~60°,humidity 90% or less (non-condensing)
Power Supply
DC12V ± 10%
Power Consumption
Max.5W
Waterproof
Yes
Housing Material
ABS
Weight
0.3kg(about)
Note:This IP Camera Default HD 3.6MM Lens, If you need other Lens, Please leave a message to us on your order page.Below is the Lens Focus, Lens View Angel, Lens Distance Comparison Table.(for your reference)
Product List:
1*1080P Outdoor Waterproof IP Camera
1*CD
NOTICE:
Our Camera does not include the power adapter.
If you need it, We can recommend for you, Please kindly click the photo as below, Add It in your Order List, Thanks ! (EU/UK/US/AU Optional)
720P-1080P IP Camera Built-in IR CUT Filter, What'S IR-Cut Filter?
The camera has a built-in mechanical IR-cut filter placed in front of the image sensor to filter out infrared light in the daytime, producing better color reproduction. At nighttime or when the built-in light sensor detects low-light conditions, the IR Cut Filter moves away from the lens to let in100% of the infrared light for maximum night vision performance. This results in the camera image changing to Black and White for better image quality.
.
CMS For Local Review & Record
Default IP Address: 192.168.1.10
Username: admin
Password: null (empty)
Default Username of CMS: super
Password: null (empty)
(As usual, DVR default IP address will be 192.168.1.10, but if your local Internet IP address with the same our default IP address, You must be changed the default IP address, you can edit the IP address of DVR by CMS.)
Website Interface Via IE
Please login your Google or IE or Firefox browser,
Then input default address 192.168.1.10 in your browser
Username:amdin
Password:null (empty)
Remind: If you use the software first time, you need to install a plugin in your computer.
P2P Via Cloud XMEYE.NET
If you want to remote view thourh Internet
Please login your Google or IE or Firefox browser
Then input Website of P2P Cloud: www.xmeye.net
Input your P2P ID, and your password, login in.
(If you want to remote visit the DVR through P2P, At first, you need open the "www.xmeye.net", If your computer can't open this website, please install all the Plug-ins in your computer, otherwise, Otherwise, you will not be able to remotely access this DVR, Please note.)
How to remote view through Mobile phone?
1. You must be installed a APP in your mobile phone,where to find or download APP?
2. Please used your mobile phone to scan the following QR code.(iPhone APP,Android APP)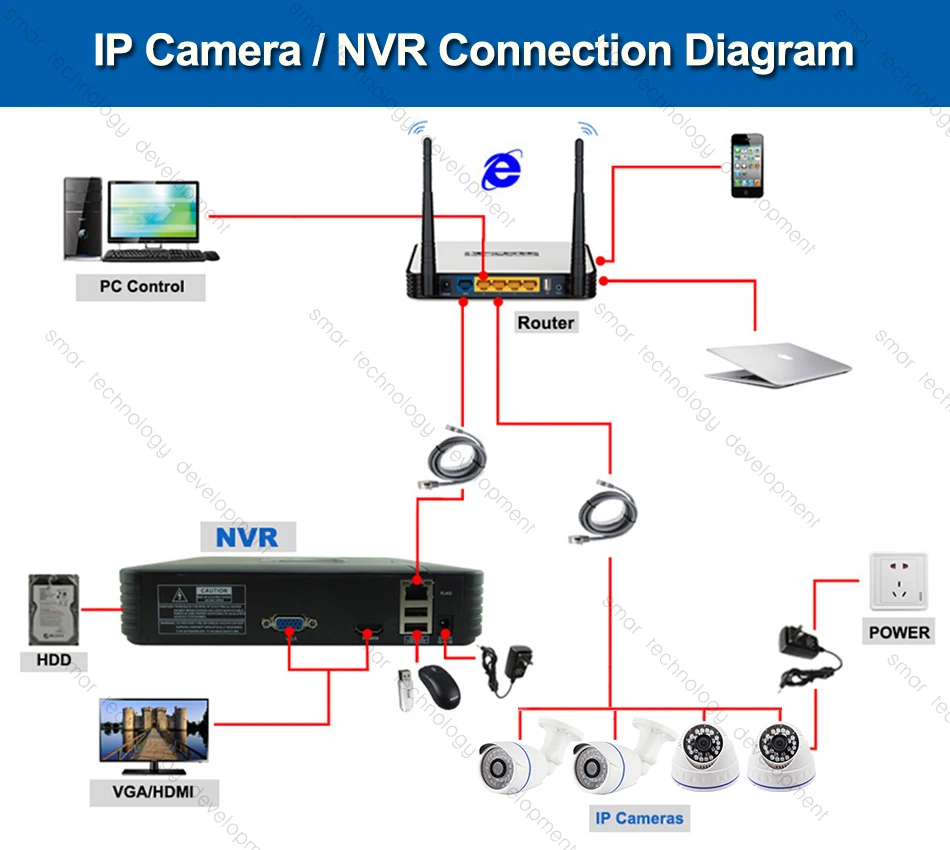 FAQ :

Q:What's the default ip address of the camera ?
F: Wired Mode 192.168.1.10 Username : admin Password : null ( empty ) !
Q: Does the camera supports Motion Detect,FTP,Email alarm, RTSP and so on ?
F: Yes ! All the IP Cameras we are selling supports these functions .
1) Please Setup the motion detection in the CMS software .
2) We suggest the Sever-U and FileZilla FTP Server to upload the video or image.
3) For the Email alarm,please use Email server which supports SMTP ( Hotmail ,Yahoo not support SMTP ,it not supports Gmail temperately since the server problem ) .
4) RTSP URL for VLC media Player :
rtsp://$(IP):$(PORT)/user=$(USER)&password=$(PWD)&channel=$(Channel)&stream=$(Stream).sdp?real_stream
Example : rtsp://10.6.10.25:554/user=admin&password=&channel=1&stream=0.sdp?real_stream
F: What're the ports information of the cameras ?
Q : ONVIF 2.0 Port 8899 ;RTSP Port 554 ;HTTP Port 80;Media Port 34567
F:Does the camera support IE ,Chrome ,Firefox and so on ?
Q: Since the plug-in problem ,for website interface IP address URL,ONLY IE supports Multi Language . Chrome,Safari just support Chinese .
For cloud server XMEYE.NET ,it supports multi language
Q:When I finish the steps to add the camera to the CMS list,why it notify " Can't find the Device " even I can see the default ip address 192.168.1.10 in the menu .
F: It is the IP Address conflict ,the default ip address is not in the same network segment as your router.
Please click "Edit Device " to change the camera's ip address to make them in the same network segment !
For example ,if your router's ip address is 192.168.0.1 ,then you need to change the camera's ip address to 192.168.0.XX .
Additional information
| | |
| --- | --- |
| Brand Name | smar |
| Type | ip camera |
| Supported Operating Systems | windows xp |
| High Definition | 1080P(Full-HD) |
| Lens (mm) | 3.6mm |
| Style | Bullet Camera |
| Certification | NONE |
| Connectivity | IP/Network Wired |
| Origin | CN(Origin) |
| Installation | Side |
| Wall Bracket | Side |
| Color | white |
| Minimum Illumination(Lux) | 0LUX(IR ON) |
| Sensor | CMOS |
| Megapixels | 2MP |
| Special Features | Waterproof / Weatherproof |
| Storage | None |
| Alarm Action | FTP Photo |
| Video Compression Format | H.265 |
| Power Supply | Normal |
| TF Card | None |
| IR Distance(m) | 15-25M |
| is_customized | Yes |
| Power Supply(V) | DC12V |
| Model Number | SAE60-NX4CV1001S/NX3CF2001S |
| Viewing Angle | 75° |
| Technology | Infrared |
| Dimensions (L x W x D)(mm) | 1/2.7 |
| Supported Mobile Systems | ios |
| Network Interface | RJ-45 10/100Mb Ethernet Slot |
| Audio Output | Other |
| HD Definition | 1MP 720P / 2MP 1080P Camera |
| Video Compression | H.264 For 1MP ,H.265 For 2MP |
| IR Cut Filter | Yes,Day & Night Vision |
| Housing material | High Quality Plastic Case, Used Indoor/Outdoor |
| Lens | Default: HD 3.6mm(2.8mm/6mm/8mm Lens Optional) |
| P2P/APP | http://www.xmeye.net/ XMEYE APP |
| IR Leds | 30PCS IR LEDS, 15-25 Meters IR Distance |
| Onvif | Onvif2.3(Compatible with ONVIF2.0) |
| Resolution/Frame Rate | 1MP 1280*720@25FPS; 2MP 1920*1080@20FPS |
| Standard /POE | Optional (Choose It When You Need) |
Only logged in customers who have purchased this product may leave a review.